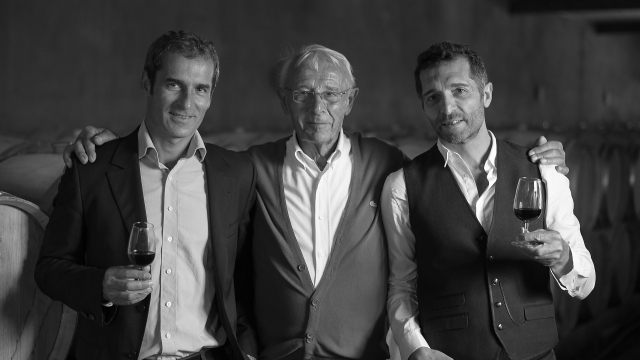 CUVEE 11 & CUVEE 20
two dark and brooding red wines, whose fruit and freshness come together to honor two major events in the history of the Bouey Family. Firstly it would be inadmissible not to mention the first 11 hectares of vines acquired by Jean Bouey in 1821. They are after all, the genesis of this particular story. And secondly, La Cuvée 20 is acknowledgement of a more contemporare event but no less important: the arrival of the fourth generation of the Bouey Family. Yann Bouey joined his father and his uncle in the family business in 2020 and thus he weaves his own intricacies into the tapestry of Bouey family narrative.
CUVEE 23 & CUVEE 58
These two numbers have played a key role in the Bouey Family's history. 
23 keeps reappearing, in the birth dates of Patrick and Jacques, and of their parents too. "23" pays homage to this lucky number, to the good fortune it has brought to the family and to the promise of more to come.
"58" meanwhile is a nod to 1958, the year in which Roger Bouey (1901-2000) founded Maison Bouey. This marked a turning point for the Bouey Family, taking them to foreign shores after more than a century of strictly local winemaking.
These two highly symbolic wines could not be made anywhere but the magnificent vineyards of Bordeaux. This is where the family first planted its roots, and where they have thrived. 
CUVEE 60
Exhibiting a striking, deep ruby red color, it opens with aromas of rich fruit - in particular, ripe forest fruit, lending complexity and interest. 
Silky smooth tannins caress the palate, leading to a delicious finish that lingers on and on. 
This organic wine takes its name from the year in which both Patrick and Jacques Bouey were born, in 1960.